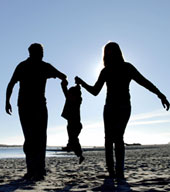 Egg Donation Overview
The Institute maintains an active, on-site egg donor program where we provide our pre-screened donors for matching with our recipients. For those interested recipients, we provide a list of outside donor agencies that have gone through an application process with us. In recent years there has been a significant increase in donor agencies and we are careful that we only work with agencies that can provide the best possible care to both our recipient and the donor.
Egg donation is appropriate for women who cannot produce viable eggs or who have chromosomal defects that make natural conception dangerous or undesirable. The underlying problems include premature ovarian failure or the loss of ovarian function from surgery or chemotherapy secondary to cancer. Other women do not respond to medication or have poor egg quality due to the delay in childbearing or diminished ovarian reserve.  Women with these or other infertility problems are candidates for egg donation.
Our egg donors, usually between the ages of 21 and 32, are of all ethnic backgrounds. Each undergoes comprehensive medical and psychological screening before acceptance into the egg donor program. To maintain privacy and confidentiality, donor couples and recipients do not meet. However, our psychologist, Dr. Claudia Pascale, PhD, carefully matches egg donors and recipients based on many factors including hair color, eye color, skin tone, ethnicity, education and medical history.
As in other IVF cases, powerful hormones are used to synchronize the natural cycles of the egg donor and recipient, and fertilization occurs in the laboratory. Sperm, from the recipient's partner or a male sperm donor, are used to fertilize the female donor's egg. The resulting embryos are placed in the recipient's uterus, which has been prepared to promote and sustain pregnancy.
For Potential Donors: