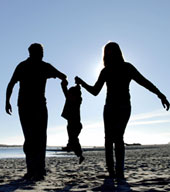 On a Waiting List? Cycle Now with the Donor you Desire
IRMS maintains an active, on-site egg donor program at our New Jersey facility where we provide several options to getting the right egg donor for you. Egg donation is appropriate for women who cannot produce viable eggs or who have chromosomal defects that make natural conception dangerous or undesirable. The underlying problems include premature ovarian failure or the loss of ovarian function from surgery or chemotherapy secondary to cancer. Other women do not respond to medication or have poor egg quality due to the delay in childbearing or diminished ovarian reserve. Women with these or other infertility problems are candidates for egg donation. Egg Donation is also an excellent option for same-sex male couples who have the option of using a gestational carrier.
Our egg donors, usually between the ages of 21 and 32, are of all ethnic backgrounds. Each undergoes comprehensive medical and psychological screening before acceptance into the egg donor program. To maintain privacy and confidentiality, donor couples and recipients do not meet. However, our psychologist, Dr. Claudia Pascale, PhD., carefully matches egg donors and recipients based on many factors including hair color, eye color, skin tone, ethnicity, education and medical history. Once a profile is offered for consideration, a recipient has the opportunity to see the donor's picture.
As in other IVF cases, powerful hormones are used to synchronize the natural cycles of the egg donor and recipient, and fertilization occurs in the laboratory. Sperm, from the recipient's partner or a male sperm donor, are used to fertilize the female donor's eggs. The resulting embryos are placed in the recipient's uterus, which has been prepared to promote and sustain pregnancy.
We offer you the option of working with one of our pre-screened IRMS donors for matching with our recipients. The majority of our IRMS donors have agreed to show both childhood and adult pictures. For those interested recipients, we also provide a list of outside donor agencies that have gone through an application process with us. IRMS is careful to work only with agencies that can provide the best possible care to both our recipient and the donor.
In addition, IRMS is pleased to announce that it is one of only a few IVF centers world wide to partner with My Egg Bank, located in Atlanta, Georgia to provide its eligible Recipients of egg donation with yet another family building option. Recent advances in reproductive medicine, specifically the freezing of eggs rather than embryos, have now made it possible to recruit, screen and stimulate a donor's ovaries and freeze their eggs.
The largest inventory of frozen donor eggs in the world is now available to eligible IRMS Recipients. The diverse database of egg donors potentially eliminates the usual 6-9 month wait associated with traditional, "fresh" egg donation cycles.
What this means to eligible donor egg recipients is that they have the opportunity to access donor eggs of all ethnicities, to review multiple donor profiles and to choose a donor rather than being matched to one. The process can start as soon as the eligible recipient's screening and eligibility criteria are met. The cycle can start as soon as the eggs are shipped to IRMS and the recipient is ready to start.
Most importantly, the reported clinical pregnancy rates are comparable to the rates when using fresh donor eggs.
An additional benefit to using My Egg Bank is a significant reduction in the cost of this cycle when compared to the cost of a traditional donor egg cycle. However, most insurance carriers consider this an "experimental" procedure, and the cost of cycle is not covered.
If you are interested in learning more, we suggest that you call IRMS for an appointment with one of our physicians to determine your eligibility for this new program. At this appointment, you will be given the opportunity to learn about the program in detail and determine your eligibility. Additionally, an IRMS financial representative will also meet with you to review the cost of this new program.
IRMS is proud to be on the forefront of this new trend in third party reproduction and pleased to be able to offer this alternative family building option.
If you have interest in setting up an appointment please call 973.322.8286.
For Recipients: