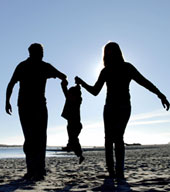 Using an Egg Donor Agency: Important Considerations
The following information is important when working with agencies.
• Agencies may reduce the time on the waiting list.
• Agencies allow you to be more proactive in the donor selection process. The main distinction between our program and an agency is:
We provide you with a recommended match with an anonymous donor in our program first providing you with the donor profile and then photos of the donor to help in making your decision.
You pick your donor with an agency usually based on photos and a cursory profile. Once you are interested in a particular donor an extended profile is then provided for you to make your final decision.
• All agencies have different policies & may differ in cost so it is important to do your research with the agencies. Make sure you know what you are paying for when working with an agency.


• Most agencies do not have medical professionals working for them so they cannot answer any medically related questions.


• Most agencies do not have their donors psychologically screened prior to being placed in their database. You will need to clarify this with the agency. Psychological screening must be done properly to be valid and IRMS does not accept psychological screening done outside our institution.


• If a donor has donated previously, it is helpful to us to get the relevant embryology information. Previous records may be reviewed by our staff, but will not be accepted as a substitute for our screening process.


• We feel that our stringent screening process is an important component of our successful pregnancy rates. While our procedures may at times seem lengthy and inconvenient, they have been developed with your safety and success in mind.


• The agency is there to assist you with travel arrangements, scheduling the donor for her initial appointment at IRMS.


• Once you have selected a donor from an agency the donor must come to IRMS at Saint Barnabas and
Meet our physician, nurse, and psychologist
Have her day 3 labs drawn (FSH, LH, E2) & sent here. (prior to cycle start)
We will not order any testing upon the donor until she is seen here by an IRMS physician.
Have all of her screening done at IRMS 3-4 weeks for all results to come back and to be reviewed by the medical staff, abnormal labs may require longer for follow up and resolution)
Sign consents
IRMS is in charge of all synchronization and medical care for your donor once she has been seen by our staff
During the cycle the donor may be seen by an outside office for blood work and ultrasounds only; they will not dictate the medical plan
Typical rejection rates for donors obtained via the agencies listed below are around 10%.
All couples using agency donors, or using known donors must execute a legal agreement between themselves and the donor with separate legal representation for both parties. IRMS can assist with referrals to lawyers with experience in reproductive law. We are not party to the agreement, but require documentation that the agreement has been executed appropriately.
• Even though you have contracted with an agency it may still take 1-3 months to schedule the donor to come to IRMS, meet the team, have the screening completed and to get synchronized with you in order to cycle. Synchronization takes about 6 weeks (minimum)


• We will not synchronize you until all of your screening as well as the donor's screening has been completed, received in our office and reviewed by our ovum donation team


• You must be financially cleared by our finance department before we will synchronize you with your donor


• Make sure your medical checklist is completed to avoid delays in cycling


• The lab closes four times a year so you will not be cycling during lab closure


• A member of the ovum donation team will order your donor medications and dispense the medications to your donor before the cycle starts


The following is the contact information for donor agencies we have worked with successfully in the past. These are independent organizations and inclusion in this list is not an endorsement by IRMS.


Asian Egg Donation, LLC
197 Route 18 South
Suite 3000
East Brunswick, NJ 08816
Phone: 1-888-665-8868
contact@asianeggdonation.com

asianeggdonation.com
Baby Steps Fertility
1419 Peerless Place
Suite 210
Los Angeles, CA 90035
Phone: (310) 880-9125
liz@babystepsfertility.com

www.babystepsfertility.com
Center for Surrogacy & Egg Donation, Inc.
14 Main Street
P.O. Box 294
Southborough, MA 01772
Phone: (508) 460-0400
Fax: (508) 449-3995
www.csedinc.com
Conceptual Options
14269 Danielson St.
Suite 102
Poway, California 92064
Phone: (858) 748-4222
Facsimile: (858) 748-4244
www.conceptualoptions.com
Creating New Generations
P.O. Box 1318
Coos Bay, Oregon 97420
Phone: (541) 266-8284
Contact: Andrea Jacobson
www.creatingnewgenerations.com
Fertility Alternatives, Inc.
11875 Bridgewood Way
San Diego, CA 92128
Phone: (858) 391-8393
Contact: Dawn T. Hunt
fertility@san.rr.com
www.FertilityAlternatives.com
Growing Generations
5757 Wilshire Boulevard
Suite 601
Los Angeles, CA 90036
Offices in Los Angeles, New York & Wheeling (West Virginia)
Phone: (323) 965-7500
Fax: (323) 965-0900
family@GrowingGenerations.com
www.GrowingGenerations.com
A Jewish Blessing, LLC
Phone: (707) 922-6366
Skype: heyjude4682
info@ajewishblessing.com

www.ajewishblessing.com
Northeast Assisted Fertility Group
92 State Street
7th Floor
Boston, MA 02109
Phone: (800) 710-1677
New York Office: (212) 207-1900
www.assistedfertility.com
Donor Concierge
165 North Redwood Dr.
Suite 202
San Rafael, CA 94903
Phone: (415) 663-6097
www.donorconcierge.com
A Perfect Match
555 West Beech Street
Suite 400
San Diego, CA 92101
Phone: (800) 264-8828 or (619) 234 6649
Contact: Darlene Pinkerton – Director
www.aperfectmatch.com
Tiny Treasures National
One Rockefeller Plaza
11th Floor
New York, NY 10020
Phone: (917) 677-9090
Fax: (888) 512-5885